Vinson Massif Expedition : 14 Nov - 4 Dec 2011
David has summited Vinson - click >>>>> HERE <<<<< to view photos of the expedition.
A few facts:

- Vinson Massif - at 4,897m / 16,055ft - is the highest mountain on Antarctica, lying in the sentinel range of the Ellsworth mountains; about 1,200km from the south pole.

- The massif, was named after Carl Vinson, a United States congressman who was a key supporter of funding for Antarctic research.

- The first ascent of Vinson was in December 1966.

The climb

David shall be joining a team to scale Vinson Massif from the Branscomb glacier.

The expedition begins in Punta Arenas, on the southern tip of Chile from where the team takes a 5 hours flight on a Russian Iluyshin 76 aircraft, landing at Patriot Hills. From there, the team transfers to a smaller aircraft to fly some 1.5 hours to land at the base of the massif.

The ascent is via a series of camps that give the team access to the upper mountain before making a summit attempt typically taking 12 hours. The team needs to be well prepared to endure temperatures in excess of -20F/-30C.
Following this expedition, David shall be immediately travelling onto Argentina in an attempt to climb cerro Aconcagua via the polish glacier. Read more....


Itinerary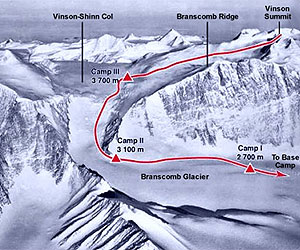 14-Nov: Arrive in Santiago, Chile and connect with flights to Punta Arenas, on the southern tip of Chile.
15-Nov: Today we make final preparations for the flight to Union Glacier with an equipment check, weighing baggage, etc.
16-Nov: Flight to Union Glacier, Antarctica. This flight is approximately five hours long, crossing Drake Passage and the Antarctic Circle before landing on a blue ice runway. If the weather allows we will continue on via Twin Otter aircraft to Vinson base camp located at 7,200' on the Branscomb Glacier. This flight is approximately 1 1/2 hours.
17-Nov: The climb begins! We carry food and fuel to C2 located at 9,100', make our cache and descend to Vinson base camp for the night
18-Nov: Rest and acclimatization day.
19-Nov: We break camp, and climb back up to C2 with our remaining gear and establish our second camp at C2 at 9,100'.
20-Nov: Weather and health permitting we carry to High Camp C3 located in the saddle between Mt. Vinson and Mt. Shinn at 12,400'. We cache gear at C3 and descend to C2 for the night.
21-Nov: Rest and acclimatization at C2.
22-Nov: Move to C3.
23-Nov: Summit Day! On the climb from High Camp to the top of Mt. Vinson we gain 3,600'. From the 16,067' summit we have unparalleled views of the Ellsworth Range, the Ronne Ice Shelf and seemingly the whole continent of Antarctica. We spend the night again at high camp.
24-Nov: Break camp and descend to Vinson Basecamp. Night spent at Basecamp.
25-Nov to 1-Dec: These days are contingency days should we experience delays due to weather or other unforeseen events. Days of delay are a normal part of Antarctic travel.
2-Dec: Return flight to Union Glacier and connect with the transport plane for the return flight to Punta Arenas.
---
Home | About | Everest | Seven Summits | Antarctica | South America | Gallery | Contact | Media
inspire . challenge . achieve
启发 . 挑战 . 实现
David Cole @ Copyright 2011
---