Aconcagua Expedition : 4-26 Dec 2011
David has summited Aconcagua - click >>>>> HERE <<<<< to view photos of the expedition.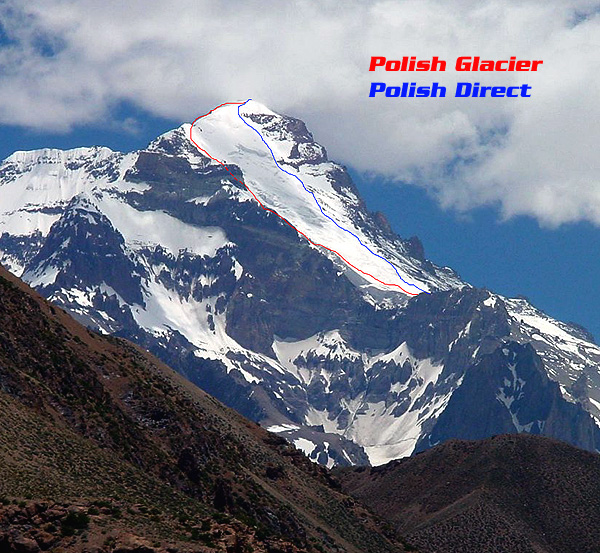 The way it often works in mountaineering, is before you finish one climb and return back home, you find yourself talking with other fellow team members, about what other other climbs you would like to do, or have possible plans for in the future. "Maybe we should get together and climb...."
And so it goes.....that is exactly the way it has been with good friend of mine Jimmy Herbaugh, from Malibu, California.
We first met back in 2009 attempting Elbrus in Russia, and since then have gone on to climb Mont Blanc, and Denali together, and this time, both of us will be challenging ourselves on cerro Aconcagua in Argentina.
Aconcagua is the
highest mountain
in the
Americas
at 6,962 m (22,841 ft). It is located along the
Andes
mountain range
, in Argentina and just 5km from the Chilean border.
Whilst the normal route is on the west side of the mountain, Jimmy and I are planning to reach the summit via the polish glacier on the north eastern side and then traversing over to the normal route for the descent.
Our expedition shall begin in the town of Mendoza, Argentina where permits shall be obtained and mules arranged to carry our gear and 3 weeks of supplies some 30km from the road head to the base camp at Plaza Argentina.
| | |
| --- | --- |
| Summit | 6,962m / 22,841ft |
| Camp 2 | 5,800m / 19,140ft |
| Camp 1 | 4,950m / 16,335ft |
| BC / Plaza Argentina | 4,000m / 13,200ft |

From base camp, we shall then commence the ascent the mountain advancing through two higher camps, before attempting to reach the summit some 8-12 hours after leaving C2. We anticipate the earliest attempt at the summit shall be around the 17th December subject to suitable weather conditions.

For myself, this is my second attempt to reach the summit of Aconcagua, when previously I was turned around a few hundred meters below the summit back in 1999 due to the viento blanc (or white wind) - extremely strong winds for which Aconcagua has a reputation.

Providing a successful summit on Vinson Massif just weeks prior to this expedition, followed by a summit of Aconcagua, David shall have completed his goal of reaching the seven summits - the highest point on each continent. Here's hoping....!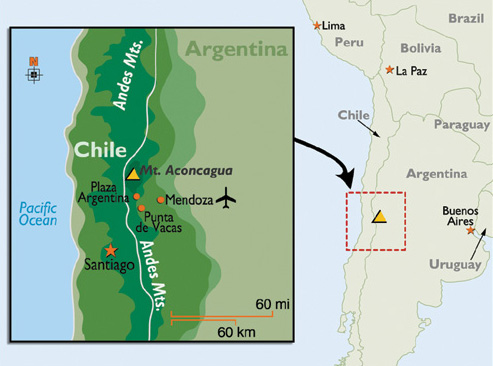 ---
Home | About | Everest | Seven Summits | Antarctica | South America | Gallery | Contact | Media
inspire . challenge . achieve
启发 . 挑战 . 实现
David Cole @ Copyright 2011
---